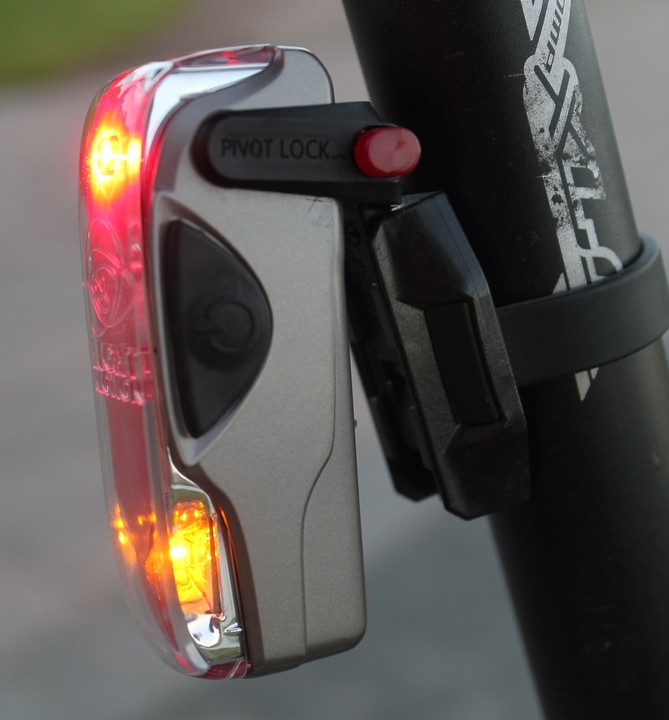 70

claimed lumens

4h 00m

reported battery life

4h 00m

measured battery life
102 g
no flash mode
pulse mode
2 brightness levels
internal Lithium batteries
battery level indicator
micro usb rechargeable
Included mounts: Seatpost
Optional mounts: Rack
The 2013 version of the Vis 180 had a 50 lumen primary LED. In 2014 the light was upgraded to a 70 lumen output, but otherwise is physically identical. When purchasing the Vis 180, make sure you get the new, brighter version. The colors "Brown Shugga" and "Silver Moon" are the 2014 version with 70 lumens. Other colors will be previous years' less-bright versions.
Review:
Best side-visibility on any taillight
Review by Nathan Hinkle, Sept. 11, 2013, midnight . Updated Aug. 7, 2014.
Pros:
Very bright (up to 50 lumens, but with dimmer options to avoid blinding others at night).
Excellent wide-angle visibility. From the raw values measured in our brightness test, the Vis 180 doesn't appear to be any brighter than the average light tested. However, what's important to notice is where the light is being put: the Vis 180 is bright across 180 degrees (hence its name), and doesn't just have a super-intense bright spot with no side visibility.
Amber side LEDs also improve side-visibility.
Mounting system is very sturdy – the light locks into place and cannot bounce out. To remove the light you push it back against the post and then slide it out.
USB rechargeable.
Battery level indicator gives ample warning when the light starts to lose power. Because of the regulated output, brightness doesn't drop even at the end of the battery life. The battery lasted for 5:20 hours in solid-on mode.
Very solid aluminum construction – unlike most lights which are made out of cheap plastic.
Tested and verified with the FL1 Standard.
Manufactured in the US.
Cons:
Only one brightness level for solid-on mode (although pulse mode has a dimmer setting).
Battery on my review unit stopped working after about 6 months, but was very quickly repaired for free under warranty (although I did have to pay shipping costs). I'm told this is an uncommon problem, and I haven't seen any other reviews that had this same problem.
Mount is not easily transferable between bikes, and only works on a seatpost (and only at certain angles). You cannot mount the light upside down, or on a seat stay, although there is a rack mount separately available. The rubber strap mounting mechanism does work for any post shape though.
Expensive (at $100, you're probably better off getting 2 or 3 other lights and putting them in different locations on different settings), but you definitely get your money's worth for the light's quality!
Update: This review is for the 2012 version. We just received the 2014 Vis 180 to review, which has been upgraded to 70 lumens but is otherwise nearly identical. A full review with photos and more details will be posted after testing is complete.