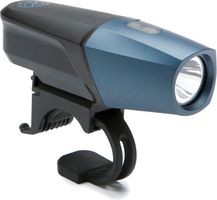 650

claimed lumens

2h 00m

reported battery life

2h 15m

measured battery life
125 g
flashing mode
pulse mode
3 brightness levels
internal Lithium batteries
low battery indicator
mini usb rechargeable
Included mounts: Slide-on
Review:
PDW's first rechargeable headlight fulfills almost every headlight desire
Review by Nathan Hinkle, Jan. 5, 2015, 12:08 a.m.
Portland Design Works has been putting out classy, well-designed lights for several years now. The Lars Rover is their first foray into the ever-expanding arena of USB-rechargeable high-intensity headlights, following on the heels of their rechargeable Aether Demon taillight from 2013. It comes with a nice variety of high-quality mounting options, is certified to the FL1 Standard, has decent optics, and an excellent selection of flash patterns. Read on for more details.
Beam and Optics
The Lars Rover has a fairly standard circular lens. The beam pattern is fairly smooth, with good throw but enough flood to illuminate the sides of a road. There is no horizontal cutoff; the beam is almost completely symmetrical. This means it's necessary to tilt the light down somewhere to avoid blinding oncoming traffic.
Read Full Review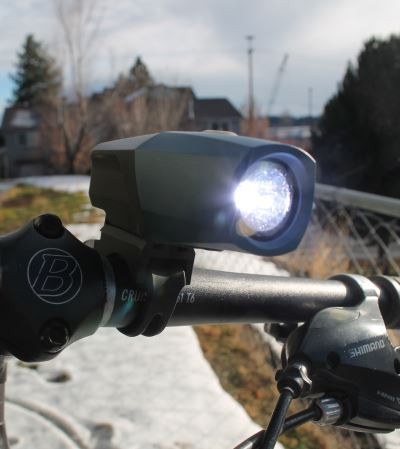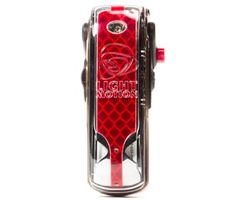 70

claimed lumens

4h 00m

reported battery life

4h 00m

measured battery life
102 g
no flash mode
pulse mode
2 brightness levels
internal Lithium batteries
battery level indicator
micro usb rechargeable
Included mounts: Seatpost
Optional mounts: Rack
The 2013 version of the Vis 180 had a 50 lumen primary LED. In 2014 the light was upgraded to a 70 lumen output, but otherwise is physically identical. When purchasing the Vis 180, make sure you get the new, brighter version. The colors "Brown Shugga" and "Silver Moon" are the 2014 version with 70 lumens. Other colors will be previous years' less-bright versions.
Review:
2014 update adds more lumens
Review by Nathan Hinkle, Oct. 24, 2014, 6 a.m.
I was quite impressed with the previous-generation Vis 180 when I reviewed it about a year ago, and the new 2014 model is very similar. The overall design remains the same: very sturdy construction using mostly metal and some durable plastic. A single bright, wide-angle red LED at the top, and a small amber side-visibility LED at the bottom. The output has been increased from 50 to 70 lumens, and the pulsing flash pattern has been modified slightly. If you already have a Vis 180 there's no pressing reason to upgrade, but if this is your first time looking at this light, read on for a detailed review.
Optics and visibility
The Vis 180's optics exceed what its name implies: the light is visible from well over a 180° range. The high-intensity primary red light is behind a custom reflector that spreads the light evenly across the horizontal plane, without wasting too much light by shining it skyward. The output of the lower amber LED is split to each side, and is also very bright. This combination makes the light visible from almost any angle behind or next to the bike.
Read Full Review