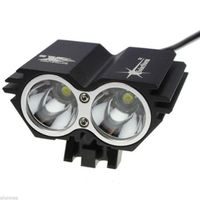 5000

claimed lumens

950

measured lumens

3h 00m

reported battery life

0h 12m

measured battery life

Made in CN
486 g
flashing mode
no pulse mode
3 brightness levels
external Lithium batteries
battery level indicator
removable battery
a/c adapter rechargeable
Dozens of vendors sell rebranded versions of this light on eBay, Amazon, and elsewhere. The lighthead is nearly identical on all variations, consisting of two Cree XM-L2 U2 LEDs and a single mode selection/power button. The battery pack varies significantly from supplier to supplier and even within products from a single vendor. Other names for this light include "SolarStorm X2" and "SecurityIng". Vendors claim anywhere from 2000 to 5000 lumens output, though actual output is about 1000 lumens on the highest setting.
Review:
With false promises and poor quality, you get what you pay for
Review by Nathan Hinkle, May 4, 2015, 6 a.m.
It's difficult to review this light because there are so many different variations. I purchased the unit I reviewed on Amazon from a vendor which no longer even exists, but dozens of others have popped up to take its place. And that is the very issue with these lights: you never quite know what you're getting. They all look the same, are all made by generic manufacturers in cheap Chinese factories, and none of them have a reputable company backing up the product. You could order 10 of these lights from 10 different vendors and get different performance, build quality, and longevity – and there's no way to tell how good a particular light will be until it shows up.
About those 5000 lumens...
Let's start with the most absurd claim attached to these lights. You'll see these lights advertised as producing anywhere from 1800 to 5000 lumens. Using Cree's output estimator, the max output from two XM-L U2 LEDs is 1700 lumens.[1] Anything claiming more than 1700 lumens is a blatant lie, but even this is only a theoretical maximum at the highest possible current draw. Few lights actually reach the maximum output, as it would draw 20W just for the LEDs alone.[2] Even without accounting for the power consumption of the circuit board and other components, this would drain a standard 4x 18650 battery pack built with quality batteries in under 2 hours, and many of these lights are sold with recycled low-capacity batteries which drain much faster.
Read Full Review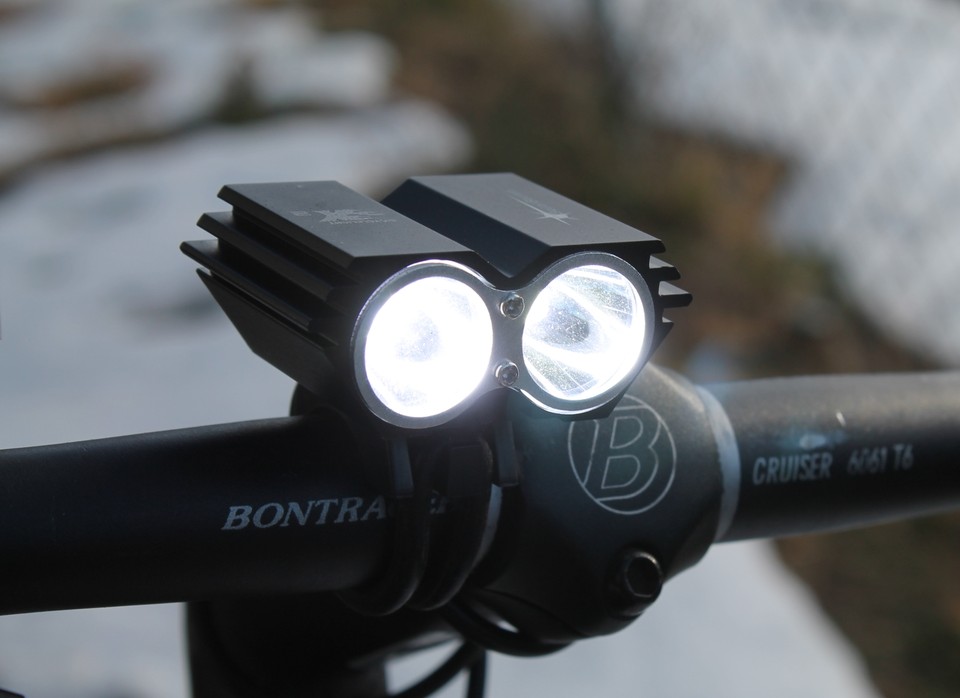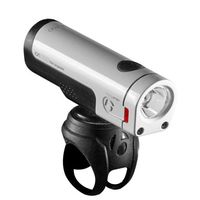 700

claimed lumens

700

measured lumens

1h 45m

reported battery life

1h 40m

measured battery life
143 g
flashing mode
no pulse mode
3 brightness levels
internal Lithium batteries
low battery indicator
micro usb rechargeable
Review:
Compact, bright, and easy to use
Review by Nathan Hinkle, Feb. 23, 2015, 6 a.m.
Most cyclists will recognize Bontrager, or at least its parent company Trek – one of the largest bicycle companies in the world. Bontrager has been selling some very basic lights for years, but the company is hardly well-known as a lighting company. That's why I was so pleasantly surprised when I started using the Ion 700 they offered to send me. It gets almost everything just right, and is one of the most impressive first attempts at a high-power single-piece rechargeable light I've ever seen.
The first thing I noticed is that the Ion 700 is compact. It's narrower than many comparable lights, with a sleek and clean design. The low-profile mount keeps the light just barely above the handlebars. It's operated by a single button on the top, and has a USB micro port on the bottom for charging.
Read Full Review